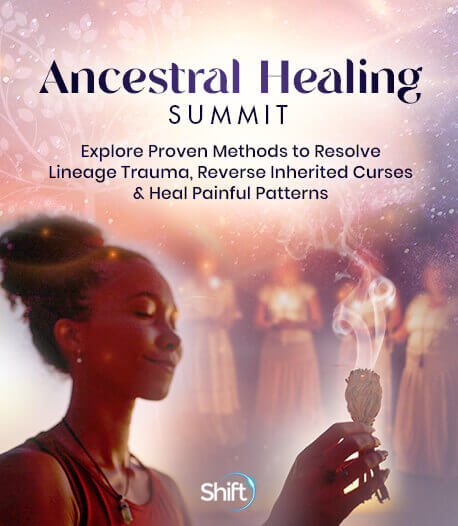 Program & Replays
Ancestral Healing in Action
Broadcast on January 31, 2023
With Lisa Bonnice
Hosted by Vanessa Gonzalez Codorniu
After many years of dedicated ancestral healing work plus hosting five ancestral healing summits, Lisa Bonnice's life, overall, has dramatically improved. Lisa will share tips and anecdotes to help viewers better understand how to not only heal ancestral trauma, but also tap into the strengths and skills mastered by those who came before us.
In this session, you'll discover:
Your well ancestors may be able to help you access dormant psychic abilities that they had mastered while still alive
Your greatest fears in this lifetime may be ancestral memories
This work may not always be easy, but the results can be miraculous
The opinions expressed here are those of the author/presenter and are not representative of Shift Network employees, customers, or other presenters.
Love this Speaker and What They Have to Say?
It can be yours to keep... forever.
Get lifetime access to the summit and bonus material by upgrading now!
UPGRADE HERE
Lisa Bonnice
Program Host at The Shift Network and Award-Winning Author
Lisa Bonnice is an award-winning writer and humorist. She received two excellence awards from MSNBC.com during her tenure there as a news writer/associate producer. She also traveled the country as a stand-up comedienne, working with the likes of Tim Allen and Steve Harvey.
She has hosted numerous summits for The Shift Network, including the Ancestral Healing Summit, Beyond the Veil Summit, and Intuitive Medicine Summit. Lisa also co-created the "Generations Oracle" kit with Carrie Paris. 
Her first book, Shape Shifting: The Body/Mind/Spirit Weight Solution, includes a foreword by Neale Donald Walsch, with whom she worked within the organization he founded, Humanity's Team, as regional director for the entire southern portion of the United States. Her true crime novel, Fear of Our Father, was twice featured on the Investigation Discovery network. Her newest novel, a metaphysical comedy called The Poppet Master, includes a foreword by Marc Allen, publisher at New World Library (and the man who discovered Eckhart Tolle).
Lisa hosted her own podcast, Shape Shifting, on BlogTalkRadio, featuring such guests as Lynne McTaggart, Edgar Mitchell, and Neale Donald Walsch. She has been a program host with The Shift Network for over five years, where she has interviewed luminaries such as Gregg Braden, Anita Moorjani, and Thomas Hübl. She also hosted an online chat show, Mind Yourself, where she interviewed experts in human transformation.
Her current writing project, based on actual events found in her family tree, spurred Lisa into her almost obsessive interest in ancestral healing. While doing genealogy research, she discovered an ancient witch trial and generational curse, which explained an awful lot about unusual patterns and illnesses in her life and those of her family. This writing project, tentatively titled The Maxwell Curse, tells how ancestral legacies can ripple across time for centuries, leaving havoc in their wake. Lisa feels that it's her life's work to heal that curse by working with her ancestors, and sharing with others how they too can break the ties that bind them to their own families' past histories.