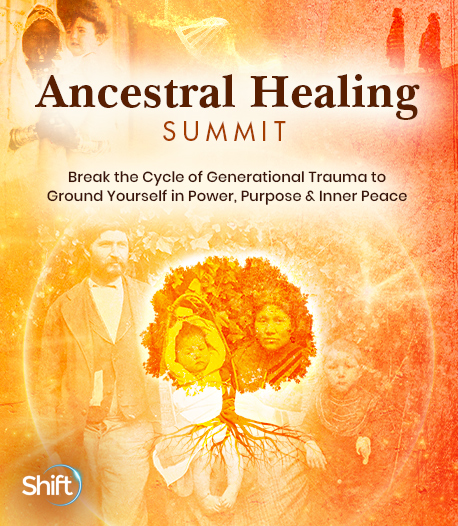 Program & Replays

Ancestral Healing: A Journey of Learning, Healing, and Working With Our Ancestral Guardians to Resolve Ancestral Patterns
Broadcast on January 21, 2022
With Natalia O'Sullivan
Hosted by Lisa Bonnice
Each prayer, ritual, and connection to your ancestors is a dynamic cycle of birth, death, and rebirth. Key milestones in your life should be revered by rituals and connections with your ancestors. When each of us was born, one of our ancestors was chosen to watch over us. Natalia O'Sullivan shares how you can meet and work with them to support you.
In this session, you'll discover:
How to work with your ancestral guides and guardians using simple healing practices
Ways to resolve hidden grief that can coil around you and your family touching you all in unknown ways
A pilgrimage to the places your ancestors lived and died gives you a sacred connection to them
The opinions expressed here are those of the author/presenter and are not representative of Shift Network employees, customers, or other presenters.
Love this Speaker and What They Have to Say?
It can be yours to keep... forever.
Get lifetime access to the summit and bonus material by upgrading now!
UPGRADE HERE
Natalia O'Sullivan
Co-Founder of Soul Rescuers & Co-Author of Ancestral Healing Made Easy
Natalia O'Sullivan, a natural born healer and spiritual counselor who has worked in the spiritual and holistic field for over 30 years, operates private clinics in London and Los Angeles. Her healing sessions use various holistic methods to assist the body, mind, and spirit to release past negative emotions and physical and psychological conditions, particularly ancestral issues, trauma, bereavement, grief, separation, and stress. Having mastered various holistic arts, she combines modern psychological thinking, life-coaching skills, and ancient wisdom. Her down-to-earth attitude toward personal development is expressed in her books, workshops, and lectures.
Her work as an ancestral healer enables deceased family and friends to communicate with loved ones on the Earth plane, which can help them with professional choices, relationships, family issues, general health problems, bereavement, and psychological disorders, such as depression and anxiety.
With her husband, Terry O'Sullivan, she is the co-founder of the Sacred Healer Retreats and The Soul Rescuers Foundation course, a professional certification training program that draws on ancient spiritual traditions with a contemporary approach. Certified Soul Rescue practitioners specialize in sacred and ancestral healing, spirit release, and land healing.
Natalia's books include Do It Yourself Psychic Power, Soul Rescuers, and Mind Power. She is the co-author of The Ancestral Continuum, The Body Shop Book of Wellbeing, and Ancestral Healing Made Easy.